Jianghai Ammonium Chloride Create a Seat in the Internation
One of the world's privately held companies, the animal nutrition and agricultural products manufacturer, has been looking for a feed grade ammonium chloride partner in China. Hunan Jianghai Environmental Protection Industry Co., Ltd. as a strong domestic feed grade ammonium chloride manufacturer was invited to have a cooperation meeting on purchasing related issues with the company's purchasing director Mr. M in the capital Beijing .
The whole meeting was relatively easy. The responsible person of Hunan Jianghai Environmental Protection Co., Ltd. introduced in detail the product advantages of feed grade ammonium chloride in Jianghai. Mr. M., the company's purchasing director, raised a series of questions to the representative of Hunan Jianghai on product quality and product qualification.
During the meeting, Mr. M paid great attention to the quality of the product and stressed that the quality is the core of both companies, also said that he was very satisfied with the Jianghai feed grade ammonium chloride . In fact, prior to this meeting, the company had made preliminary contacts with Jianghai . At the request of the company, Jianghai sent the samples of feed grade ammonium chloride which were tested professionally and proved that Jianghai's products are good quality, without any problems, and fully met the requirements of EU import index. In fact, before cooperating with this company, the quality of Jianghai ammonium chloride had won the favor of many domestic and foreign cooperation enterprises.
About the qualification of the product, Mr. M revealed that they had inspected many feed grade ammonium chloride manufacturers in China, and was very responsible for looking for partners. The company's reviewers visited Jianghai last August and were quite satisfied with Jianghai's quality. In this meeting, Mr. M also particularly stressed: "Investigating and comparing so many feed grade ammonium chloride manufacturers in China, Jianghai Company's product qualification is complete, and the qualification is what we like." We believe in authoritative qualifications, which is also guaranteed for the quality of our products.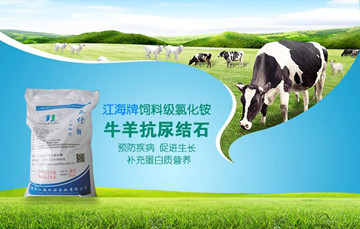 The meeting further promoted the cooperation, the two sides engaged in substantive business docking activities, aimed at promoting the full range of cooperation between enterprises in feed grade ammonium chloride. The two sides have made detailed communication and agreement on the details of the targets of ammonium chloride and export price, and both sides have expressed their desire to be long-term partners.The details of the contract are being worked out, and I believe this will be a very successful cooperation.
This smooth cooperation with international giant companies is not only confirmed the strength of Jianghai ammonium chloride products, but also accelerated the pace of Jianghai ammonium chloride export. For Jianghai Environmental Protection Co., Ltd, ammonium Chloride has occupied an important position in the international market.